September 24, 2023 - Twenty-fifth Sunday in Ordinary Time
Easter Triduum Schedule
Holy Thursday – April 6
Mass of the Lord's Supper - 7:00 pm (English/Church)
Washing of Feet | Transfer of Holy Eucharist
Adoration until 10:00 pm (as long as there are people in Church)
Good Friday – April 7
No Morning Mass
Total Abstinence & Fast (one full meal ages 18-59)
Adoration 9:00 am to 6:00 pm in the Chapel
Stations of the Cross 6:00 pm (Polish/Church)
Celebration of Lord's Passion - 7:00 pm (Polish/Church)
Liturgy of the Word | Veneration of the Cross | Holy Communion | Collection for the Holy Land
Adoration until 10:00 pm (as long as there are people in Church)
Holy Saturday – April 8
Adoration 9:00 am to 6:00 pm in the Chapel
Blessing of Easter food - 9:00 am, 10:00 am and 11:00 am in Church
Easter Vigil - 7:00 pm (English/Church)
Liturgy of the Word | Blessing of the Water | Liturgy of the Eucharist
Easter Sunday – April 9
7:00 am Procession Mass (Polish) | 9:30 am Mass (English) | 11:00 am Mas (Polish)
2023-2024 CCD Classes Schedule
Religious Education Program (CCD) for the year 2023-2024 will begin on Tuesday, October 3rd, and Wednesday, October 4th, 2023 from 5:00 pm to 6:30 pm in the Convent.
October Devotions
The October Devotions will begin next Sunday after the 11 am Mass. There will be Exposition of the Blessed Sacrament, recitation of the Rosary, Litany and Benediction.
Blessing of the Annimals
In honor of the Feast Day of St. Francis of Assisi, October 4th, 2023, the Blessing of the Animals will take place next Sunday, October 1st at 12:30 pm in the Church parking lot.
Experience the Eucharistic Miracles Exhibit!
This traveling exhibit has been created by the Diocese of Trenton to assist those who will experience it to affirm belief in the Real Presence of Jesus in the Eucharist. It is based upon the website created by Blessed Carlo Acutis to catalogue all of the Eucharistic miracles that have taken place worldwide. This exhibit will visit the parishes and schools of the diocese during the time of the Eucharistic Revival.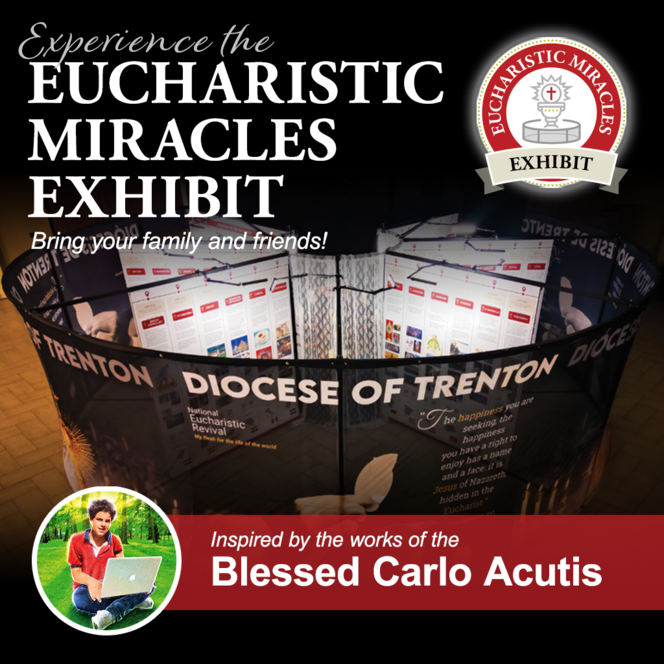 Exhibit Schedule
Sep 9 - Sep 25, 2023 Mary, Mother of the Church - Bordentown, Florence, Roebling
Sep 26 - Oct 13, 2023 St. Ann, Lawrenceville, NJ
Oct 15 - Oct 27, 2023 Sacred Heart, Riverton, NJ
Dec 12 - Jan 1, 2024 St. David the King, Princeton Junction, NJ
For more information and locations visit: Eucharistic Miracles Exhibit
Mass Intentions for 2024
The Mass intention book for 2024 is now open during regular business hours in the rectory. Mass Intention Forms are available in back of the Church and on our website. The forms can be placed in the weekend collection basket, mail directly to the Parish Office or drop off in the Rectory through the mail slot.
Pope Francis Prayer Intention - September 2023
For people living on the margins | Za osoby żyjące na marginesie
Pope Francis always encourages us to place ourselves at the side of those who are marginalized and cast out, those who never make the headlines.
"Let's stop making invisible those who are on the margins of society, whether it's due to poverty, addictions, mental illness or disability."
Remember Our Sick Parishioners In Your Prayers
John R. Bogdan, Anna Burzawa, Dylan Cascno, Tim Cicon, Sr., Mark Cicon, Dorothy Dominski, Bartoszek Dudek, Zenon Dzięgielewski, Sabina Dziewięcka, Helen Jamieson, Charles Kowalski, Sue Lynch, Adam Matusz, Marie Niwore, Dan Piestor, Alan Seaman, Lucy Siemientkowski, Anthony Sikora, Pat Sikorski, Diane Silver, Joseph P. Strycharz, Kelly Ann Strycharz, Elizabeth Torma.
Please call the Rectory Office to add or remove names from the list.