November 22, 2020 - The Solemnity of Our Lord Jesus Christ, King of the Universe
---
Reading 1: Ezekiel 34:11-12, 15-17
Responsorial Psalm: 23:1-2, 2-3, 5-6
Reading 2: 1 Corinthians 15:20-26, 28
Gospel: Matthew 25:31-46

---
If you forgot to pick up books on Sunday October 11th, for grades 1,6, and 7, please come Thursday night from 6:00 until 7:30 pm
Students from the other grades will be contacted by their teachers they had back in March when we closed.
Former Students in grades 4 and 5 ONLY from Wednesday night will be returning to their classrooms with former teachers for classes at 5:15 until 6:00 pm. Due to their small class size, we can accommodate the 6ft rule and provide safe learining environment. Students will have their temperatures taken and sanitize their hands before entering the school. They must wear masks or they cannot enter the school and will be marked absent.
All NEW students from grades 1 to 8 will begin the CCD program the first week of December when the former students will be promoted to the next grade. Look for updates the last week of January.
Thanksgiving Day Mass
There will be 8:00 AM Mass in the chapel celebrated on Thursday, November 26th. Please join us!
Congratulations
As a Parish Family we welcome and congratulate our parishioner Dorothy Zadworny, as the new President of the Rosary Society. We wish you God's blessings in your new position in this beautiful organization.
In Memoriam
Please pray for the soul of Stefania Szyszko, who has died. Eternal rest grant unto her O Lord and let Perpetual Light shine upon her. May she rest in peace. Amen.
Remember Our Sick In Your Prayer
Madeleine Buono, Anna Burzawa, Dylan Cascarino, Tim Cicon, Sr., Mark Cicon, Dorothy Dominski, Bartoszek Dudek, Helena Dzięgielewska, Zenon Dzięgielewski, Sabina Dziewięcka, Charles & Eileen Fair, Fr. Fred Jackiewicz, Helen Jamieson, Charles Kowalski, Alice S. Laird, Sue Lynch, Adam Matusz, Marie Niwore, Dan Piestor, Cheryl Fuzes Poli, Jurek Probola, Zofia Rynkowska, Lucy Siemientkowski, Anthony Sikora, Roman Sikora, Fred Sikorski, Edward Sikorski, Pat Sikorski, Diane Silver, Joseph P. Strycharz, Kelly Ann Strycharz, Czesława Supel, Mitch Tacs, Doris Tarquinio, Anna Wozniak, Esther Zamorski
Please call the Rectory Office to add or delete names from the list.
Special Prayer for the Men and Women in the Military
Lord Jesus, we ask you to watch over our men and women who are serving in the military in Iraq, Afghanistan and throughout the world. We ask for your wisdom and peace for all the world leaders to end the fighting. We pray for your healing touch. AMEN
Bishop Extends Mass Dispensation
Bishop David M. O'Connell, C.M., issued the following message July 30, 2020:
Given all current public health and safety reports, I am extending the dispensation from Sunday obligation to attend Mass beyond the aforementioned September 7 date listed in our Diocesan Directives "until further notice."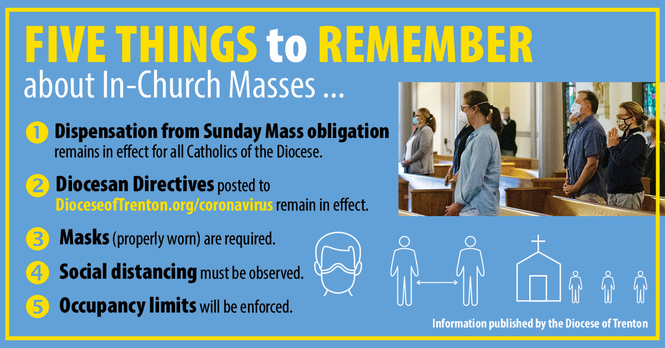 COVID-19 Resources
---