Paul Robeson School is having conferences at the same time as the CCD classes. Parents dropping off children for CCD classes please be aware of the parking situation.
FEBRUARY 16 - SIXTH SUNDAY IN ORDINARY TIME
We may have learned the commandments by heart when we were in school, but as the psalmist says, what is more important is to keep them with all your heart. Taking them to heart means going beyond the letter of the law, for you have internalized their guidance. The heart is regarded as the seat of human emotion, especially—as the celebration of Valentine's Day this past Friday reminded us—love. As Jesus will say later in Matthew, all of the law and the prophets proceed from the two greatest commandments; love the Lord your God with all your heart and love your neighbor as yourself. Saint Paul tells us that we have a huge advantage over anyone who lived before him, for we have the guidance of the Holy Spirit. The scripture quote he uses is from Isaiah, and though it may still be true that "eye has not seen, and ear has not heard," it has been revealed to us through the Holy Spirit (1 Corinthians 2:9, quoting Isaiah 64:3). The Spirit can guide us in following the way of the Lord even if we cannot see or hear it. Jesus addresses the fifth commandment by teaching his disciples how dangerous anger is. Left unresolved, it can cause resentment and lead to the death of a relationship. Jesus insists that we make the reconciliation of the relationship the highest priority, even higher than one's relationship with God. "Go first and be reconciled with your brother (or sister), and then come and offer your gift" (Matthew 5:24).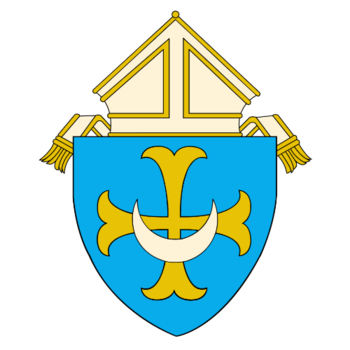 DIOCESE OF TRENTON ANNUAL CATHOLIC APPEAL
"God gives where he finds empty hands."

...So should we
---
This weekend February 15th & 16th, 2020 is Appeal Weekend for the Annual Catholic Appeal throughout the Diocese of Trenton. Each year the Bishop seeks the support of all of the members of the Diocese to further the work of our local church. We, as the local Church, have a very large job to do. It is a job that takes many hands and your help is greatly needed. Our Diocese is growing and our services, programs, and ministries need to respond to this growth. With God's Grace and your continued support, we will reach and hopefully surpass our goal in 2020. We all need to support each other: the Bishop, the Pastors, and our fellow lay brothers and sisters who do the work of the Church and to help during this time of growth. Your generosity allows us to support our faith and spread the Good News of the Gospel. This weekend every parishioner will have the opportunity to participate in the 2020 Annual Catholic Appeal. During each Mass pledge cards will be distributed and the Bishop's video will be shown. Our Diocese is following Jesus' command "Go therefore, and make disciples of all nations, baptizing them in the name of the Father, and of the Son and of the Holy Spirit."
Parish Office Closed, Monday February 17
The Rectory Office will be closed on Monday, February 17th, 2020 in observance of Presidents' Day.
Polish Arts Club of Trenton Scholarship
The Polish Arts Club of Trenton announces the availability of $1,500 scholarships to qualified high school seniors of Polish descent to assist in their pursuit of a college education. For details and an application, please visit our website www.trentonpolisharts.org. Applications must be submitted by February 20, 2020.
Special Collection for Catholic Churches in Eastern Europe
Next weekend, February 22nd & 23rd, 2020 a special collection for Catholic Churches in Eastern Europe will be taken. Your support will truly make a difference. Thank you.
St. Hedwig Cementery Columbarium
The niches in the columbarium at the New Cemetery on Eggerts Crossing Rd. in Ewing are now on sale. There are single and double niches. For more information please call the Parish Office at 609-396-9068.
Remember Our Sick In Your Prayer
Madeleine Buono, Anna Burzawa, Dylan Cascarino, Tim Cicon, Sr., Mark Cicon, Dorothy Dominski, Bartoszek Dudek, Helena Dzięgielewska, Zenon Dzięgielewski, Sabina Dziewięcka, Charles & Eileen Fair, Fr. Fred Jackiewicz, Helen Jamieson, Charles Kowalski, Alice S. Laird, Sue Lynch, Adam Matusz, Marie Niwore, Dan Piestor, Cheryl Fuzes Poli, Jurek Probola, Joseph Ryczkowski, Zofia Rynkowska, Lucy Siemientkowski, Anthony Sikora, Roman Sikora, Fred Sikorski, Edward Sikorski, Pat Sikorski, Diane Silver, Joseph P. Strycharz, Kelly Ann Strycharz, Czesława Supel, Mitch Tacs, Doris Tarquinio, Anna Wozniak, Esther Zamorski.
Please call the Rectory Office to add or delete names from the list.
St. Hedwig's Parish Veteran Memorial
All Veterans active or inactive qualify to enter names on the Memorial Walk. For information please call Julius Wszolek at 599-2298.
Lest We Forget
Because of them, our lives are full—
Because of them, our nation lives
Because of them, our world is Blessed.
Special Prayer for the Men and Women in the Military
Lord Jesus, we ask you to watch over our men and women who are serving in the military in Iraq, Afghanistan and throughout the world. We ask for your wisdom and peace for all the world leaders to end the fighting. We pray for your healing touch. AMEN